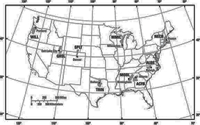 Project Overview
Full Title
ALBE NAWQA
Location


USA
Project Chief
Gerard McMahon

Period of Project
2001-2010
Team Members
Melinda Chapman
Michelle Moorman
Thomas Cuffney
Ana María García
Gerard McMahon
Eric Staub
Silvia Terziotti
USGS IN YOUR STATE
USGS Water Science Centers are located in each state.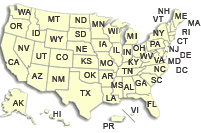 Albemarle-Pamlico NAWQA
3 - Urban stream studiesó Effects of Urbanization on Stream Ecosystems (EUSE)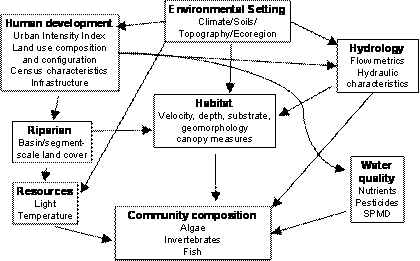 Conceptual model of systems that EUSE is describing and analyzing
Assessment of urban effects on stream biology and water quality is an important component of the NAWQA program. An initial pilot program was implemented with 1997 NAWQA in three study units.
Information about the Raleigh EUSE study.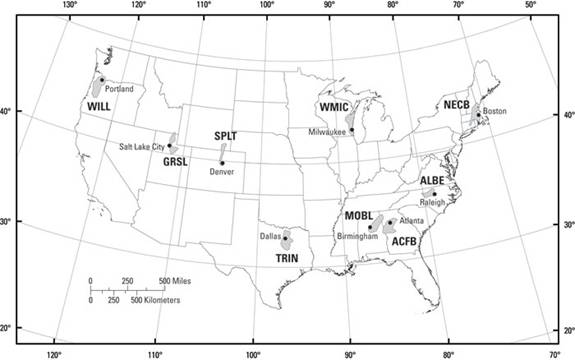 Locations of EUSE study basins.
The national EUSE (Effects of Urbanization on Stream Ecosystems) study began in 2002. In the ALBE, thirty Piedmont basins representing a land-use gradient from undeveloped to fully developed along the I-40 corridor from Raleigh to Winston-Salem, were instrumented with pressure transducers, and were sampled for water quality, fish, aquatic macroinvertibrate populations, and habitat in 2003. Water quality data from the ten regularly sampled EUSE sites show high phosphorus levels and a suite of urban pesticides.
This study successfully demonstrated the strong link between urban intensity and physical, chemical, and biological indicators of water-quality. The Cycle II plan for the study stresses Bayesian ecological modeling using the Biological Condition Gradient (BCG) — a method of systematically defining ordered tiers of ecosystem health using characteristics of ecosystem structure and function that respond to increasing stress. The BCG conceptual framework is translated into a Bayesian network of quantifiable nodes, relationships, and probabilities that describe the effect of urbanization on macroinvertebrate biological condition.