North Carolina Projects and Studies
Featured Project:
Factors affecting nitrogen and phosphorus loads in nutrient-sensitive waters of eastern North Carolina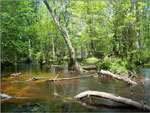 This collaborative project between the North Carolina Department of Environment and Natural Resources (NCDENR), Division of Water Quality (DWQ) and the U.S. Geological Survey (USGS) is being conducted as part of the NCDENR Section 319 nonpoint source (NPS) grant program. The overall goal of the project is to provide needed information to water-resource managers and policy makers for developing and implementing restoration plans for nutrient-sensitive waters (NSW) in eastern North Carolina.

Learn more
Browse Projects by Science Goals
The North Carolina Water science plan identifies the priority science goals of the NC Water Office.
---
Not all NCWSC projects are currently described. Please contact the North Carolina WSC Director if you are interested in additional project information, or in suggesting new scientific studies.