North Carolina Projects and Studies
Featured Project:
Stratification and Water Quality of Jordan Lake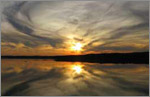 In order to evaluate effects of installing a vertical-mixing system on the New Hope arm of Jordan Lake, the U.S. Geological Survey (USGS) is documenting water-column stratification, chemical quality, taste and odor compounds, and phytoplankton characteristics before and after installation of a mixing system.

Learn more
Browse Projects by Science Goals
The North Carolina Water science plan identifies the priority science goals of the NC Water Office.
---
Not all NCWSC projects are currently described. Please contact the North Carolina WSC Director if you are interested in additional project information, or in suggesting new scientific studies.