North Carolina Projects and Studies
Featured Project:
Pee Dee National Wildlife Refuge flow model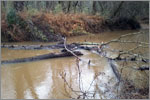 The U.S. Geological Survey and the U.S. Fish and Wildlife Service entered into a cooperative agreement to develop a model of streamflow and inundation in the Pee Dee National Wildlife Refuge area. The resulting flow model will be used to better understand streamflow and flooding in the area and serve to protect refuge assets and sensitive habitat areas.

Learn more
Browse Projects by Science Goals
The North Carolina Water science plan identifies the priority science goals of the NC Water Office.
---
Not all NCWSC projects are currently described. Please contact the North Carolina WSC Director if you are interested in additional project information, or in suggesting new scientific studies.