North Carolina Projects and Studies
Featured Project:
Roanoke River Water-Quality Monitoring and Modeling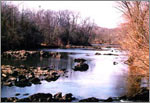 The relations among river flow, floodplain water level, and instream dissolved-oxygen (DO) concentrations are important but poorly understood for the Roanoke River. Flooding and floodplain inundation no longer follow a natural seasonal pattern of flooding in the winter and occasionally in the fall, and lower flows throughout the remainder of the year, but are primarily governed by upstream reservoir releases. The timing, duration, and extent of floodplain inundation can have either positive or negative effects on the ecosystem in the lower Roanoke River corridor, depending on the inundation characteristics. Timing, depth, and duration of floodplain inundation affects habitat use and reproductive success of wildlife and regeneration of bottomland hardwood trees.

Learn more
Browse Projects by Science Goals
The North Carolina Water science plan identifies the priority science goals of the NC Water Office.
---
Not all NCWSC projects are currently described. Please contact the North Carolina WSC Director if you are interested in additional project information, or in suggesting new scientific studies.