North Carolina Media: Podcasts and Videos
The North Carolina Water Science Center (NC WSC) presents these videos and podcasts to help you understand hydrologic conditions in North Carolina and the role USGS plays in providing water information to you. Below is a small sample of podcasts, videos and related multimedia links, for a complete list of all NC WSC podcasts and videos use the navigation bar at the top of this page.
---
These audio-only podcasts are from NC WSC scientists on a variety of topics, ranging from Hurricane Floyd to an overview of hydrologic data collection techniques.
Most Recent Podcast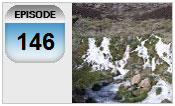 USGS CoreCast: Groundwater Awareness Week is March 6-12
From large drawdowns in the Great Plains aquifer to arsenic in some wells in New England, this episode of CoreCast highlights six different USGS groundwater studies all across the United States, including Wake County in North Carolina. (7.68 Mb)

These films include documentaries of water sampling, summaries of scientific investigations, and interviews on topics including stream restoration, science communication, and the water-quality effects of urbanization and agriculture. The topics, scientists, and regions included are from across the Nation.
Most Recent Video
Title: Shale Baseline Sampling of Groundwater in North Carolina
Description: Melinda Chapman and Sharon Fitzgerald discuss the U.S. Geological Survey groundwater sampling program to characterize water-suppy well water quality in the area of North Carolina with potential for shale gas production. The sampling program is designed to provide a pre-devolpment baseline that can be compared with well-water quality after shale gas development has occurred to assess any impacts on water quality.
Location: Sanford, NC
---
Additional USGS podcasts, videos and multimedia resources are available from USGS Multimedia Gallery
---
Can't see Flash? Install Flash Player.