Water Resources of North Carolina
USGS news and current information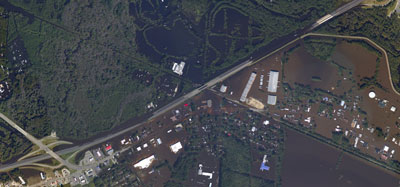 Interstate 95 flooded by Hurricane Matthew in Robeson County, NC
(Photo courtesy of NOAA, Remote Sensing Division)
The passage of Hurricane Matthew across the central and eastern regions of North Carolina and South Carolina during October 7–9, 2016, resulted in heavy rainfall that caused major flooding in parts of the eastern Piedmont in North Carolina and coastal regions of both States. Rainfall totals of 3 to 8 inches and 8 to more than 15 inches were widespread throughout the central and eastern regions, respectively.
U.S. Geological Survey streamgages recorded peaks of record at 26 locations, including 11 sites with long-term periods of 30 or more years of record. A total of 44 additional locations had peak streamflows that ranked in the top 5 for the period of record. Additionally, among 23 U.S. Geological Survey streamgages within the affected basins in North Carolina where stage-only data are collected, new peak stages were recorded at 5 locations during the flooding. U.S. Geological Survey personnel made 102 streamflow measurements at 60 locations in both States to verify, update, or extend existing rating curves (which are used to determine stage-discharge relations) during the October 2016 flood event.
The peak stages and streamflows that occurred following Hurricane Matthew are document in a USGS Open-File report published in December 2016 by the USGS South Atlantic Water Science Center.
Hurricane Matthew Information Portal
The USGS South Atlantic Water Science Center (SAWSC) deployed most of the USGS Storm-Tide Network along the Atlantic coast to monitor the timing, extent, and magnitude of the storm tide during the passage of Hurricane Matthew. The data are available at the Flood Event Viewer.
SAWSC also responded to the rains and flooding by ensuring that USGS real-time gages were operational and provided critical information on river stage and rainfall to the public, National Weather Service, and emergency management officials. In addition, USGS deployed staff to make streamflow measurements at streamgages across the state to verify and update the relations between river stage and streamflow. These relations were critical for determining the volume of water that passes a streamgaging station at any given river stage and are used in issuing flood warnings, mapping floodplains, monitoring water-quality and environmental conditions and managing water resources.

View 'Of Current Interest' Archive
---
Recent Publications
Characterization of peak streamflows and flood inundation at selected areas in North Carolina following Hurricane Matthew, October 2016
By Jonathan W. Musser, Kara M. Watson, and Anthony J. Gotvald
Open-File Report 2017-1047
Geophysical logging and thermal imaging near the Hemphill Road TCE National Priorities List Superfund site near Gastonia, North Carolina
By Dominick J. Antolino and Melinda J. Chapman
Open-File Report 2017-1017
Continued geophysical logging near the GMH Electronics National Priorities List Superfund site near Roxboro, North Carolina
By Dominick J. Antolino and Melinda J. Chapman
Data Series 1022

Search our publications
Podcasts
USGS CoreCast: Groundwater Awareness Week is March 6-12
From large drawdowns in the Great Plains aquifer to arsenic in some wells in New England, this episode of CoreCast highlights six different USGS groundwater studies all across the United States, including Wake County in North Carolina. (7.68 Mb)

---