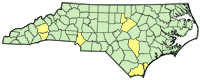 Project Overview
Full Title
Characterization of Stormwater Runoff Constituent Loads from Bridge Decks in North Carolina and Determination of the Effects of Bridge Stormwater Runoff on Selected Receiving Waters
Location


Buncombe, Henderson, Mecklenburg, Durham, Wake, Sampson, New Hanover and Brunswick Counties
Partner Agencies
North Carolina Department of Transportation
Project Chief
Chad Wagner
cwagner@usgs.gov
Period of Project
2009 - 2010
Team Members
Scott Caldwell
Sean Egen
Jason Jarvis
John Mazurek
Cassandra Pfeifle
Trey Sherrell

Science Topic
Support of Federal and State Programs
USGS IN YOUR STATE
USGS Water Science Centers are located in each state.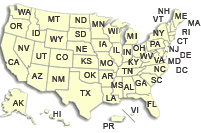 Water quality characterization of bridge deck runoff in NC
This project was completed in 2012. These pages are for historical purposes only.
Map and Data
Figure 1. Location of the 15 bridge deck runoff and precipitation monitoring stations in North Carolina.
View Bridge Stormwater Study Sites in a larger map
Table 1

. Real-time streamgage and precipitation stations co-located with the bridge deck runoff monitoring sites.

| Site Name | Site Type | USGS Station # | Period of record |
| --- | --- | --- | --- |
| Raingage at Town Creek near Wilmington, NC, Bridge No 90061 | Precipitation | 340813077591645 | April 2009 to April 2010 |
| Raingage at Smith Creek near Wilmington, NC, Bridge No 640131 | Precipitation | 341528077550745 | April 2009 to April 2010 |
| Raingage at Black River near Tomahawk, NC, Bridge No. 810014 | Precipitation | 344516078172145 | April 2009 to April 2010 |
| Raingage at Mountain Creek near Bahama, NC, Bridge No. 310005 | Precipitation | 360908078540745 | May 2009 to April 2010 |
| Rainage at Little River near Orange Factory, NC, Bridge No. 310064 | Precipitation | 360829078550945 | May 2009 to April 2010 |
| Raingage at Perry Creek near Raleigh, NC, Bridge No. 910124 | Precipitation | 355247078325045 | April 2009 to April 2010 |
| Raingage at Mango Creek near Raleigh, NC, Bridge No. 911102 | Precipitation | 354703078304845 | March 2009 to April 2010 |
| Raingage at Mallard Creek near Charlotte, NC, Bridge No. 590296 | Precipitation | 351911080450545 | April 2009 to April 2010 |
| Raingage at Swift Creek at Garner, NC, Bridge No. 910255 | Precipitation | 354217078392245 | May 2009 to March 2010 |
| Raingage at Middle Creek near Fuquay-Varina, NC, Bridge No. 910273 | Precipitation | 353633078411045 | May 2009 to March 2010 |
| Raingage at Swannanoa River near Black Mountain, NC, Bridge No. 100494 | Precipitation | 353708082182145 | March 2009 to April 2010 |
| Raingage at Big Ivy Creek near Mars Hill, NC, Bridge No. 100734 | Precipitation | 354728082321945 | July 2009 to April 2010 |
| Raingage at Dillingham Creek at Barnardsville, NC, Bridge No. 100145 | Precipitation | 354607082260945 | May 2009 to April 2010 |
| Raingage at Bolyston Creek at Mills River, NC, Bridge No. 440008 | Precipitation | 352231082325645 | May 2009 to April 2010 |
| Raingage at Flat Creek near Weaverville, NC, Bridge No. 100250 | Precipitation | 354306082372645 | July 2009 to April 2010 |
| Black River near Tomahawk, NC | Streamflow and Water Quality | 02106500 | October 1951 - present |
| Little River at SR 1461 near Orange Factory, NC | Streamflow and Water Quality | 0208521324 | September 1987 - present |
| Mountain Creek at SR 1617 near Bahama, NC | Streamflow | 0208524090 | October 1994 - present |
| Mountain Creek at SR 1616 near Bahama, NC | Water Quality | 0208524088 | May 2009 - April 2010 |
| Swannanoa River near Black Mountain, NC | Streamflow and Water Quality | 03448800 | March 2009 - present |