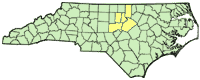 Project Overview
Full Title
Triangle Area Water Supply Monitoring Project
Location


Chatham, Durham, Granville, Orange, and Wake Counties
Partner Agencies
Partner Agencies
Project Chief
Mary Giorgino
giorgino@usgs.gov
Period of Project
October 1988 - June 2017
Team Members
Jessica Cain
Cassandra Pfeifle
Ryan Rasmussen
Science Topic
Increased Population and Water Resources
USGS IN YOUR STATE
USGS Water Science Centers are located in each state.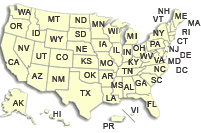 Triangle Area Water Supply Monitoring
Introduction
The Research Triangle area, located within the upper Cape Fear and Neuse River basins, is one of the most rapidly developing areas of North Carolina. Growth has increased demand for water from public suppliers, the majority of which draw water from streams and lakes in the region. Growth also brings the threat of greater loads of contaminants and new contaminant sources that, if not properly managed, could adversely affect water quality.
In 1988, several local governments, with assistance from Triangle J Council of Governments (TJCOG), formed the Triangle Area Water Supply Monitoring Project. With cooperative assistance from the U.S. Geological Survey (USGS), the Project has tracked water-quality conditions and trends in many of the area's water-supply reservoirs, rivers, and selected tributaries since October 1988.
Summary
Background and objectives of the Triangle Area Water Supply Monitoring Project

Data
Study area map with station locations and links to available real-time and/or water quality data

Reports
Publications, presentation, and podcasts created for the Triangle Area Water Supply Monitoring Project