Project Overview
Full Title
NC Shale Gas Baseline Groundwater Sampling Project
Location

Lee and Chatham Counties

Cooperating Agencies

NC DENR, Duke University, Lee and Chatham County Health Depts., NC Cooperative Extension Service

Project Chief
Melinda Chapman
mjchap@usgs.gov

Period of Project
2011 - 2014

Team Members
Laura Nagy
Sharon Fitzgerald
USGS IN YOUR STATE
USGS Water Science Centers are located in each state.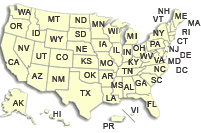 NC Shale Gas Baseline Groundwater Sampling Project
Introduction
Simpson well. Photo by Jeff Reid, North Carolina Geological Survey
The U.S. Geological Survey (USGS) North Carolina Water Science Center is conducting an inventory of well records and baseline groundwater-quality sampling to better delineate areas of groundwater use and groundwater-quality characteristics prior to potential shale gas exploration in the Triassic Basins of Lee and Chatham Counties, North Carolina (fig. 1). Shale Gas exploration has become economically viable in many areas of the United States (http://www.eia.doe.gov/oil_gas/rpd/shaleusa2.pdf) as a result of improved directional drilling capabilities and hydraulic fracturing ("fracking") techniques. The compilation of baseline groundwater-quality data in North Carolina is an opportunity for comparison to data collected after drilling activities commence should the State allow Shale Gas exploration to occur. In June 2011, the North Carolina Legislature passed House Bill 242 directing the North Carolina Department of Environment and Natural Resources (NC DENR) to study issues related to potential Shale Gas Exploration in the Triassic Basins of the State (http://www.ncleg.net/sessions/2011/bills/house/pdf/h242v2.pdf).
Figure 1. North Carolina Shale Gas Well Inventory Study Area (PDF)
Shows the location of the Triassic Basin, urbanized areas, and the study area within the Piedmont Physiographic Province of North Carolina.