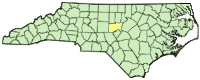 Project Overview
Full Title
Stratification and Water Quality in the New Hope Arm of Jordan Lake, Chatham County, NC
Location


Chatham County
Cooperating Agencies
Town of Cary, NC
Project Chief
Mary Giorgino
giorgino@usgs.gov
Period of Project
2012 - 2019
Team Members
Jessica Cain
Ryan Rasmussen

Science Topic
Increased Population and Water Resources

USGS IN YOUR STATE
USGS Water Science Centers are located in each state.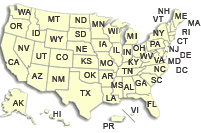 Stratification and Water Quality of Jordan Lake
Introduction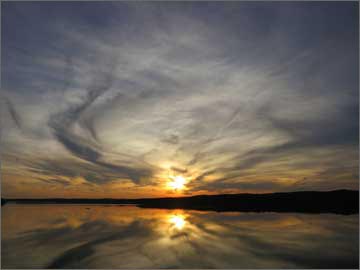 Sunset at Jordan Lake. Photo courtesy of Doug Harned, USGS.
The New Hope arm of Jordan Lake, located in Chatham County, North Carolina, serves as a drinking-water supply for the Towns of Cary, Apex, and Morrisville. The reservoir is listed as impaired due to nutrient over-enrichment and occasionally experiences algal blooms and fish kills.
The Town of Cary proposes to install an innovative, high-capacity, water-column mixing system in the New Hope arm of Jordan Lake during winter 2016-2017.
The vertical-mixing system is expected to enhance drinking-water treatment, alleviate algal blooms, and enhance recreational use. However, if the system does not completely mix the water column as expected, nutrients transported upward from bottom waters could fuel algal blooms near the surface.
In order to evaluate effects of installing a vertical-mixing system on the New Hope arm of Jordan Lake, the U.S. Geological Survey (USGS) is documenting water-column stratification, chemical quality, taste and odor compounds, and phytoplankton characteristics before and after installation of a mixing system. This project is being conducted in cooperation with the Town of Cary, NC, and with support from the USGS Cooperative Water Program.
Objectives
The objectives of this study are to:
Evaluate the spatial and temporal scope of the vertical-mixing system's effects on lake stratification
Document concentrations of iron, manganese, nutrients, and taste and odor compounds before and after the installation of the mixing system
To achieve the study objectives, the USGS will collect data:
At 4 locations in Jordan Lake
Biweekly during the months of April through October
April 2012 - October 2013 and April 2017 - October 2018
Both provisional and approved water-quality data will be available online through the National Water Information System (NWIS).