Project Overview
Full Title
Characterization of Surface-Water Quality Associated with Swine CAFOs in Eastern North Carolina
Location

North Carolina Coastal Plain
Cooperating Agencies
NC DENR Division of Water Quality, Aquifer Protection Section
Project Chief
Stephen Harden

Period of Project
2011 - 2014
Team Members
Stephen Harden
Brian Pointer
Ryan Rasmussen
Sean Egen
Jessica Cain
Dominick Antolino

Science Topic
Agriculture and Water Quality
Support of Federal and State Programs
USGS IN YOUR STATE
USGS Water Science Centers are located in each state.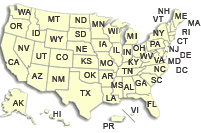 Surface-Water Quality and Swine CAFOs
Introduction
The Animal Feeding Operations Unit within the North Carolina Department of Environment and Natural Resources Division of Water Resources (DWR) is responsible for permitting and regulating animal feeding operations throughout North Carolina. As of 2010, DWR permitted approximately 2,150 swine operations in the state, the majority (about 2,000) of which are located in the Coastal Plain Physiographic Province.
The lack of stream water-quality data associated with the many permitted swine concentrated animal feeding operations (CAFOs) in eastern North Carolina makes it difficult for DWR to:
Assess the extent to which effects of swine CAFOs on stream nutrient concentrations can be measured
Determine how well existing CAFO regulations protect the waters of the state
Recommend effective changes to regulations or procedures
Therefore, the DWR collaborated with the U.S. Geological Survey (USGS) to generate needed information to provide a scientific basis for water-resource managers and policy makers to evaluate existing, or establish new, regulations or procedures at permitted CAFOs for protecting and enhancing stream water quality in nutrient impaired waters in eastern North Carolina.
During the study, samples were collected and analyzed from 54 Coastal Plain watersheds to determine whether swine CAFOs had a mesuarable effect on stream water quality.
All water-quality data collected during this project are available online in the USGS National Water Information System (NWIS) database.
Bi-monthly water-quality sampling at 54 locations
Sampling across watershed variables: number and types of CAFOs, land cover, soil drainage
The final report for the completed study was released on June 23, 2015 and is available online.