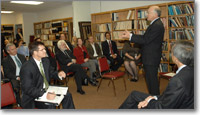 NEWSROOM

USGS Newsroom Home

North Carolina Contact
3916 Sunset Ridge Rd
Raleigh, NC 27607
Phone: (919) 571-4000
Fax: (919) 571-4041
dc_nc@usgs.gov
NATIONAL NEWSROOM PRODUCTS
ABOUT THE NC WATER OFFICE
USGS IN YOUR STATE
USGS Water Science Centers are located in each state.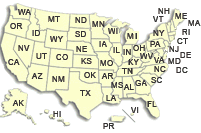 USGS South Atlantic Water Science Center - North Carolina: Newsroom
Latest USGS North Carolina News Releases
Shorebirds Ignore Aircraft, But Pay Attention to People, Off-road Vehicles
Released: Wed, 16 Mar 2016 9:00:00 EDT

New Maps of 2015 Floods Help S. Carolina Plan for the Future
Released: Mon, 14 Mar 2016 10:28:09 EDT

Algal Toxins Detected in One-Third of Streams Assessed in Southeastern United States
Released: Wed, 17 Feb 2016 11:00:00 EDT


View more USGS North Carolina news releases
Latest USGS National News Releases
South Dakota Scientists Help Restore Water in Armenia
Released: Tue, 26 Apr 2016 13:05:05 EDT

Citizen Science – Volcanic Ash Collection Workshop and Public Lecture
Released: Mon, 25 Apr 2016 13:00:00 EDT

Winners Announced in Visualize Your Water High School Citizen Science Challenge
Released: Thu, 21 Apr 2016 11:00:00 EDT


View more USGS national news releases
Archived North Carolina News Releases
Do Triangle Area Water Supplies Contain Emerging Contaminants?
Released:7/5/2007
For years, North Carolina water suppliers have dealt with conventional pollutants, such as excessive nitrogen and phosphorus, sediment, and fecal bacteria. Local utility managers for the Triangle Area partnered with the USGS to investigate the occurrence of these substances in rivers and reservoirs that supply raw water.

View all archived North Carolina News Releases